What is really more hilarious than a gross gift at a party? Be the one to purchase a gift that has everyone dying of laughter at the next party.
We have put together a list of the top gross gift ideas for kids. These are perfect for any gross little kid that likes pulling pranks or simply thinks that farts, poop, and underwear are hilarious. Let's be honest, what little kid DOESN'T think those things are so funny?
We really don't think there is anything wrong with being silly when it comes to birthday gifts–whether they are for kids or adults. After all, a funny gross gift is not only going to make the birthday boy or girl laugh, but it's going to have everyone else at the party laughing.
Also check out our hand-picked list of the top 29 gag gifts for kids to find some more funny gifts for your next party.
SUMMARY
Feed and walk your little pup, when he makes a mess you clean it up. Be the first player to get 3 pieces of dog mess on your shovel to win. For ages 4 and up. For 2 to 4 players. Play Time is 15 minutes.
While this game is certainly gross as it's literally a race to see who can collect the most dog poop, it actually seems like it's pretty fun! At least the kids are learning to take care of the dog, and MAY actually start racing to pick up the dog's poop in real life. Pair this gross game with another silly game, Toilet Trouble, for a night of endless laughs with the family.
SUMMARY
1000 Facts Things People Places and Animals That are Simply Disgusting: Perfect for kids who love gross and interesting facts, this set of two books is crammed full of thousands of scary, freaky, gross, extraordinary and simply unbelievable facts from all walks of life! With a colorful design and fantastic, fun photography, it's sure to please. Ideal for ages 8-12.
This book is a great way to get a kid who loves gross things to read. It also comes with bonus experiments for them to make, which is sure to keep them busy for a while!
SUMMARY
Ask people to pull the Pull my Finger pen and it will let out a hilarious fart sound effect! When there is no one around to trick with the gag, you can use it as a writing instrument! Actual working pen that includes a farting sound effect.
What's better than a pen that doubles as a gross prank? "Pull my finger" is the oldest trick in the book, and this pen is sure to have everyone laughing–on study breaks ONLY, of course.
SUMMARY
This amusing Farts in a Can will replicate the hilarity of one of nature's most whiffy and wonderful bodily expulsions while managing to spare the people around you from the pungent pong of the real thing.
What We Like About It
Your kid will absolutely love using their farts in a can to gross out every member of the family. On the bright side, this gag will save you the horrible smell of the real thing.
SUMMARY
Flatulent fun with your CD player! Fart! is the sound-sational game of rip-roaring fun that will challenge even straight-laced Aunt Grace to keep a straight face! An instant source of laughter, Fart! is the hilarious game in which you race to be the first to play out of cards whilst accompanied by a fast 'n' frantic Fart-chorus! Every now and then an unrealistically enormous explosion will let rip, forcing you to change direction, pick up penalty cards or 'Pass the Wind' to your neighbor! Wild hilarity at the press of a button, Fart! is the side-splitting game that helps you to unwind and release a little pressure!
What We Like About It
This game is too hilarious to be true. We can't imagine anyone paying this game with a straight face, and it's a perfect gift for the kid in your life who just loves to be gross.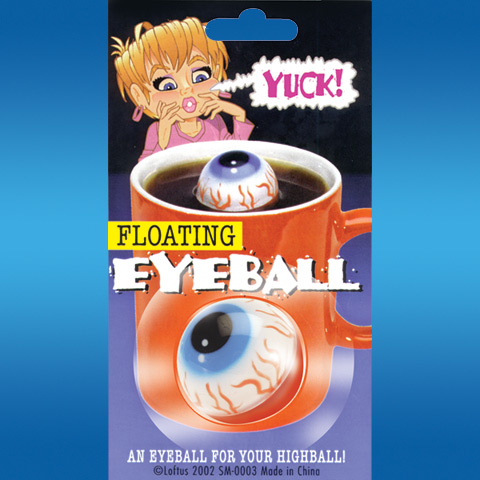 SUMMARY
Imagine the look on your friends' faces when they look down at their steaming bowl of soup or cup of hot coffee and see an eyeball staring back at them. The floating eyeball gag is perfect for any liquid and will float at the top to look apprehensively at whoever might be drinking from the cup. This is sure to gross out and amuse at your next get-together or Halloween party. It will be the only drink that will keep an eye on you.
As we know, kids love to play pranks on their friends and family members. This prank is gross, yet harmless, and is sure to make the prankster and the victim crack up.
SUMMARY
While the Whoopee Cushion will forever be a classic fart gag, pranking has evolved for a more sophisticated crowd of jokers. Step up your fart joke repertoire with the Remote Control Fart Machine. With this gas-tastic little innovation, you control when to let loose the torrent of digital fartitude with a remote control. With this handy gag, you are no longer limited to a one-time payoff when your mark sits down. There are so many opportunities to use the Remote Control Fart Machine, the possibilities are endless. With the press of a button the room will erupt in laughter as your friend's cheeks get red. Simply hide the speaker behind her chair or under her desk and let the endless supply of laughs come roaring forth.
What We Like About It
This is a whoopee cushion for the new generation! Kids will love bringing their remote control fart machine around with them everywhere, perfect for embarassing you! See more fart machines to find the perfect one for your gross kid.
SUMMARY
A creepy crawly remote control spider. Uses infrared technology, making it look super realistic and scary when it walks by.
What We Like About It
This is a gross and creepy gift that will keep your child busy for hours. The perfect prank to pull on someone who is afraid of spiders, and also a cool toy to play around with.
52 Things to Do While You Poo
SUMMARY
Perching on the porcelain can be very boring when you have nothing to do but poo. But fear no more, as excretion expert Hugh Jassburn has put together a compendium of entertaining activities and informative fun that will make you want to stay put, even if you don't need to go. Doing a number two will never be the same again.  Filled with clever mazes, trivia, searches, and puzzles all focused on the act, history, and science of pooing, 52 Things to do While You Poo will keep you entertained for as long as you need.
As gross as it may seem, this book is actually super fun and will keep kids on the toilet until they are done. We all know how difficult that can be, which makes this the perfect silly gift.
SUMMARY
Stop flushing and start playing with your Doody!  Just kidding, that's disgusting but this Game isn't.  One person wears the head gear with point values and velcro on top.  The other player(s) toss Velcro-responsive Doodies at the Hat-wearer.  Whoever can score the highest score wins!  Throw your Poops like chimps in a zoo but actually win something.  Sound too good to be true?  Well it isn't, it's the perfect Game for you.  You get three Doodies and two hats so you can take turns pelting all the Doody Heads in your life.
We think that the idea of this game is absolutely hilarious. A fun game to keep the kids busy, but also a hilarious show for the parents on the sidelines, this is definitely one of the best gross gift ideas for kids.
SUMMARY
You probably feel self-conscious about carrying your cash in your skivvies, but not anymore! Pretty soon it will feel like second nature to be tucking bills into these tighty-whities. This polyester canvas pair of underpants is actually a 4-1/4″ x 3-1/2″ folded wallet with plenty of room for cash and cards. So take that cash out of your actual briefs and move it to your pocket panties!
This wallet made out of underpants is the perfect nasty gift for the gross kis in your life. He or she will be so excited to put their lunch money in this wallet and pull it out at school the next day as all of their friends start cracking up.
SUMMARY
Want to feel real small? Just slip on this underwear and you'll feel downright non-existent! Yes, your dream has come true. You can now own an actual pair of the World's Largest Underpants This is not a joke? It's a genuine pair of 100% cotton briefs size 98-100. Just like its smaller brothers, the World's Largest Underpants has an elastic band and the trademark double-flap.
This is a hilarious gross gift idea for a kid. The look on their face when they open the world's largest underpants as a gift will be absolutely priceless.
SUMMARY
Number Two Pencils are the most used Pencils of all.  They get all the hardest jobs done in a scratch.  Jobs like mechanized testing, love letters, breakup letters, essays, note-to-self's, architectural drawings, and word searches.  All of these can be done whilst making a Number Two. So naturally, the pencil was dubbed a "Number Two Pencil" upon it's creation.  We made sure you get a Number Two Pencil in all it's glory.  The bouncy, rubber "Number Two" on the end of the Pencil can be removed to access the eraser.  But who would ever want to remove that glorious pile?  You can sharpen the tip as you would any other Pencil.  Get your papers ready to be smeared with some good, ol' fashioned graphite and a lot of poop.
Any kid who loves gross things will absolutely love getting this pencil as a gift. They will be so excited to bring it to school to show everyone just how gross they really are. Compliment this poo pencil gift with a gross pencil sharpener.
Thanks for checking out our list of the top 13 weird and nasty gifts for kids.
See all of our funny gift ideas here. Everyone loves a funny gift, whether it's a kid or an adult!
Also, check out our lists of the coolest toys for boys and the coolest toys for girls.